Hi all,
Is everyone as anxious for the weekend as I am? I have been having an abnormally slow week and it is now 3:16pm and I am done with all my pressing matters at work with over 2hrs of free time staring me in the face. What's a girl to do but blog away some clock time? It's out of my hands right? hah.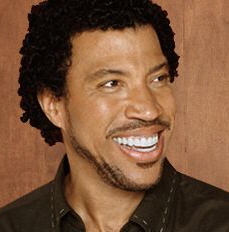 Did anyone else see Lionel Richie on GMA this morning? He is such a sexy man! sigh. Apparently he has a new album out, "Just Go" I liked the first single off it so I might have to get it, add to my eclectic collection of music, you know. but I have no shame grooving to his old hits, "cheesy" (as some music critics have said) or no. Check out his
website
for even more eye candy!
I have a super fun weekend ahead since one of my good camp friends, known to some of you as Minnesota Hubby (which is a joke about a joke about the time we "got married" at Haagen Daz-it's a long silly story, but we are camp people, so our whole relationships are long silly stories and I wouldn't have it any other way!) and his gf (and their doggie!) are coming down for a weekend of baseball! Twins vs. Rays baby!
So, once I am free of work I have some errands to do, as well as a little housecleaning. Lucky for me my guests have a drive a head of them, so it buys me some time to tidy up!
Here are some tasty eats from yesterday, starting with lunch: My plate contained all kinds of yummy. A tiny sandwich on "breakfast bread" from the Publix bakery. It contains pumpkin and sunflower seeds, walnuts and dried cranberries! De-lish. I love having "sweet breads" as the base for my sandwiches because they are so filling and tend to be smaller too. Alongside it I had some carrot "chips" with babaganoosh, some grapes left over from the going away lunch for one of our fellows and a piece of pineapple-also leftover. I ended up not eating the pictured cheese cubes, just wasn't feeling it. I also tried one of those
"So Delicious" coconut yogurts by Turtle Mountain.
I remembered seeing
a review
that
Meghann
did on them and decided to try one myself. It was pretty pricey for the single serving cup but it was good. A little thin for my taste in yogurt and pretty sweet too. (Can you tell I'm a Greek kinda gal?) but I would try another one in a different flavor. I love raspberry which is why I got this one, but it had an after taste that reminded me of cough syrup...not so yum.
Dinner was a lite but spread out affair. Before I left to run at the park and my yoga class I had the leftover steamed brock from my yummy baked potato meal earlier in the week with a side of the breakfast bread smeared with
PB & Co's Cinnamon Raisin PB
and two dates stuffed with Panera's Lite Whipped Cream Cheese with Honey and Walnuts (aka fluffy crack!). After a good run, I think I'm finally starting to get a rhythm, still need a LOT more stamina though, I had an amazing class with Denise. We worked on more hip openers, including some cool inverted balancing that made my ex-dancer self happy, arm and full body strength with plank variations and some inversions and back bends. Basically all the same themes we have been doing this spring, but Denise always seems to find a new a different twist (haha, some times literally as well as figuratively!) on things. Love her, love yoga, love my strong (and getting stronger everyday) body!
After yoga I was hungry again but it was nearly 10pm when I got home, cause YogaGF and I were being Chatty Cathy's in the parking lot with some other students so I didn't want to eat a full meal. As a healthy treat to calm the hunger roar I melted a little dark chocolate and drizzled it on a small bowl of strawberries, pineapple and kiwi. I don't know why more people don't do chocolate covered tropical fruits. I think mango is next on my list. :D
Now I'm off to "stay busy" until 5:30pm strikes!
Enjoy your weekends everyone.
Love to all,
~A ready to hit the ballpark Jess