Hi Kids!
So, I've been teasing you guys for weeks about doing a couple reviews: one on "Pilate's Wife" and another on some of the LUSH products I got samples of. Sorry that I ended up putting these reviews on the shelf, but in case you haven't notice I've been a little busy dumping my life upside down.....which seems to have become a yearly ritual come July, hoping that stops this year!
haha
. We will leave the real world outside tonight and jump in with a review of a wonderful book by Antoinette May.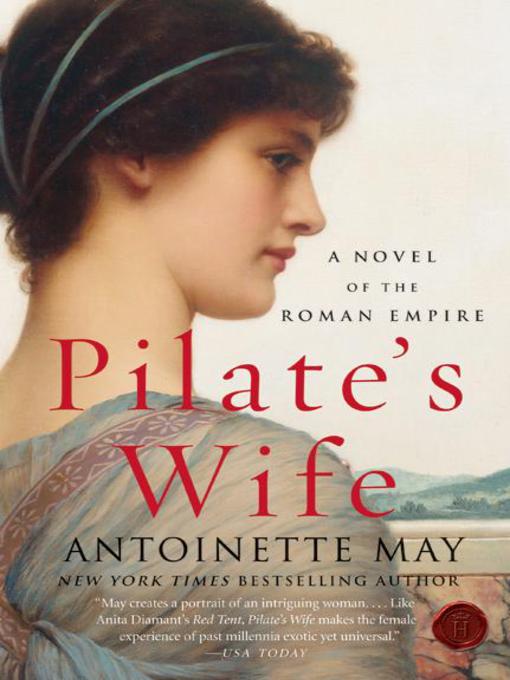 This is the second book I've read in the past year that tells the story of Jesus from a
female's
point of view and while it was very different from "The Secret Magdalene" by Li Longfellow, they did have quite a few
overlapping
concepts. Both have young, strong willed women as the narrator which is always a hit in my book, since I feel that girls (and women!) can always use a
positive
, strong female
influence
in their lives, even if it's a fictional character. What I loved even more about both of these books was they portrayed Jesus as a light hearted, attractive but determined young man. I have often felt that other
portrayals
, including those in the Gospels have shown him to be reserved and aloof, so both of these books have a wonderful image of a
lovable
,
jovial
man, which is the kind of lord I would want, right? Anyways, back to the book review: "Pilate's Wife" skillful weaves the world of
Egyptian
gods with a world of Roman
tyranny
and how
Pontious
Pilate came to be the man to hand down the death sentence to the Son of God. I don't want to give the story away, but trust me it is a wonderful mix of adventure, romance, heartbreak and the fight to do what is right. I'm not a lit major, so I have a hard time really giving a good
review
, but trust me I know a good book, and this one is
superb
. Please go read it.
Now on the the skin care. I was recently in the
International
Plaza, killing time before dinner with some friends when I wandered into a little shop called
LUSH
. To my delight I discovered that I had just walked into a earth friendly skin
Nirvana
. Or so I thought. All of
LUSH's
products are handmade and most are vegan friendly. I had been looking for some skin care products that are more natural and another source of handmade soap, since the goat's milk soap I currently have leaves you smelling-well like a goat. :( Lush has pretty much every thing a earth friendly gal would need-bar soaps by weight, butter bars, solid shampoos, bath frizzy things (I'm not a bath girl...but for those of you that are, you might enjoy their "bath bombs") lotions, potions, etc. The clerk spent a long time with me explaining products, looking at my combo face, and then sent me home with 2 samples of face
cleanser
- both Angels on Bare Skin and the Dark Angels, which is better for oil skin (oh, oh...pick me!) and the Imperials Facial Moisturizer. I also purchased a 1/4lb of their
MudFlats
soap, because it has real mud in it and reminded me
initially
of when I used to play in the riverbank clay and how good that made my skin feel.
So, you may have noticed how I've said "
initially
" a few times in this review. Let's just say, while I've not given up on LUSH yet, I'm not a convert yet either. I've actually thrown the soap away. Once wet it had a very strong sent that reminded me of the boy's dorm bathrooms...not the
fragrance
I want lingering on any part of my body. I wish I had gotten the
Porridge Soap
but that is another con about LUSH, their products are a bit pricey, so I didn't get to go crazy in the shop and was SO thankful that the clerk gave some the face care samples. But I'm not a convert on them either. The facial
cleansers
are in a grit form (sorry, I don't know how else to describe it) so you wet your face and then get a pinch of the solid and then make a paste out of them and the finally wash your face. Also, the main ingredient of Dark Angels is
charcoal
, which makes a mess in the sink. They made my skin feel very soft and
exfoliated
, but again had a very strong, lingering smell. I haven't even been able to put the
moisturizer
on, because it smells so strong. So, overall I would say Lush is a great idea, and I might order a few more of their soaps, but I guess I'm still a drugstore products kind of girl!
Phew! Hope you guys enjoyed those reviews. I can get them off my "to do" list...which is pretty packed-with laundry, packing, a weekend jaunt to
Orlando
! (
Yay
, for blogger lunches!) and figuring out my housing
situation
come August. Big changes, big changes.
Enjoy your weekend, my beauts.
Love to all,
~A slightly freaked out, but still upbeat Jess